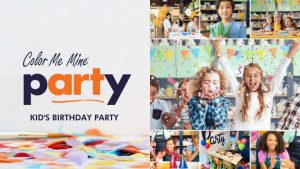 Let's pARTy!
Join us for your child's birthday party and let us help make this birthday one to remember!
Here's how it works:
With the party package you are reserving the semi-private party room for 2 hours for 8-20 painters!
You are welcome to bring food, cake or drinks! Don't forget utensils, plates and napkins!
We paint and decorate the birthday child a ceramic keepsake plate that everyone signs! It's a fun way to remember who all attended the party!
Your party will have a staff member to help guide the party, give instruction, pour paint and clean up.
We charge a $100 non-refundable party fee upon booking that covers the reservation of the room for 2 hours, cleanup, the paints and the firing of the ceramic pieces. The $100 fee covers up to 20 painters. There are only 20 seats in the party room, so we cannot promise seating for any painters over 20. If you have more than 20 painters show up, there will be a studio fee charged per painter over the 20 limit. If you have less than 8 painters, we require 8 pieces to be paid for.
The day of the party, the painters will select what ceramic pieces they would like to paint! These pieces are individually priced and NOT included in the $100 party fee. They will be purchased the day of the party.
The pieces will be left with us to be glazed and fired. They will be ready for pick up one week from the party! The party host is responsible for picking up the pieces within 30 days of the pick up date.
All pieces will be wrapped and bagged separately labeled with each painter's name.
If you have any questions please do not hesitate to give us a call at 615-893-5556!